I have been in a Robert Altman phase recently, and last week finally watched Popeye (1980). I'm always thrilled to see Robin Williams and Shelley Duvall in virtually any capacity, but what immediately captivated me about the film were the costumes, which from minute one lent themselves to dream outfit-building. From the black rubber (?) trench that conceals Popeye's famous forearms for the 30 seconds he keeps it on to Olive Oyl's show-stopping, back-buttoning sweater, this film is a rich sartorial text and as the days finally begin to lengthen, I propose you bite some of its style for the spring and summer seasons.
P.S. I really like having a static, standalone blog, and there aren't many of them out there these days, but some friends have suggested I might reach more people/elicit more interaction with a Substack. Would you be more likely to sub/comment/read if this blog were in newsletter form? Please let me know here or @humanrepeller on Instagram! Thanks, and enjoy!
Sailor Shirt
A sailor/sailor-y shirt must be vintage, must be a little beat-up looking, preferably has some kind of attached scarf or epic collar, and can be worn with anything from work pants to cutoff shorts or bermudas to long, bundled, sail-like skirts to pleated minis. The PERFECT top to go over a swimsuit with no pants at all. Would pair best with a watch cap/beanie like the ones below, but if you really wanna go full Popeye, a flat cap or tam is a brave choice.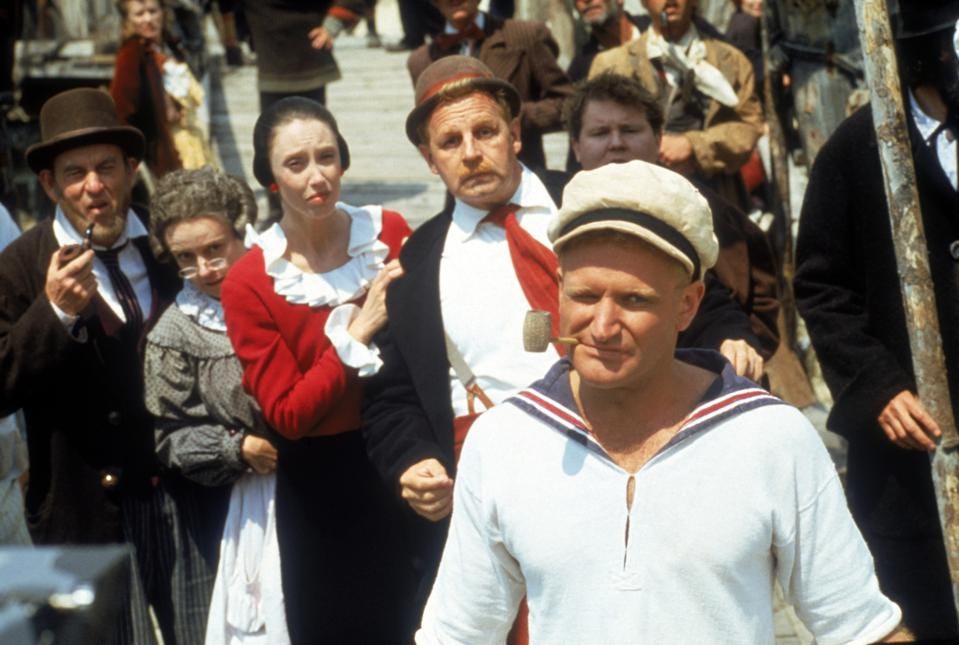 Black Rain Gear
For some reason, this first shot of the inimitably good Robin Williams left a huge imprint on me. I'd always considered bright rain gear superior, as it livens up gloomy weather, but something about the black coat and hat/navy and white underneath really spoke to me. To avoid looking like a sentient trash bag, matte might be the safer bet, but sometimes it might be nice to look like a sentient trash bag! The Sou'wester cap with the built-in chin tie is calling out to me verrrryyyy loudly right now and would be a perennial part of my wardrobe as it seems perfect for any season.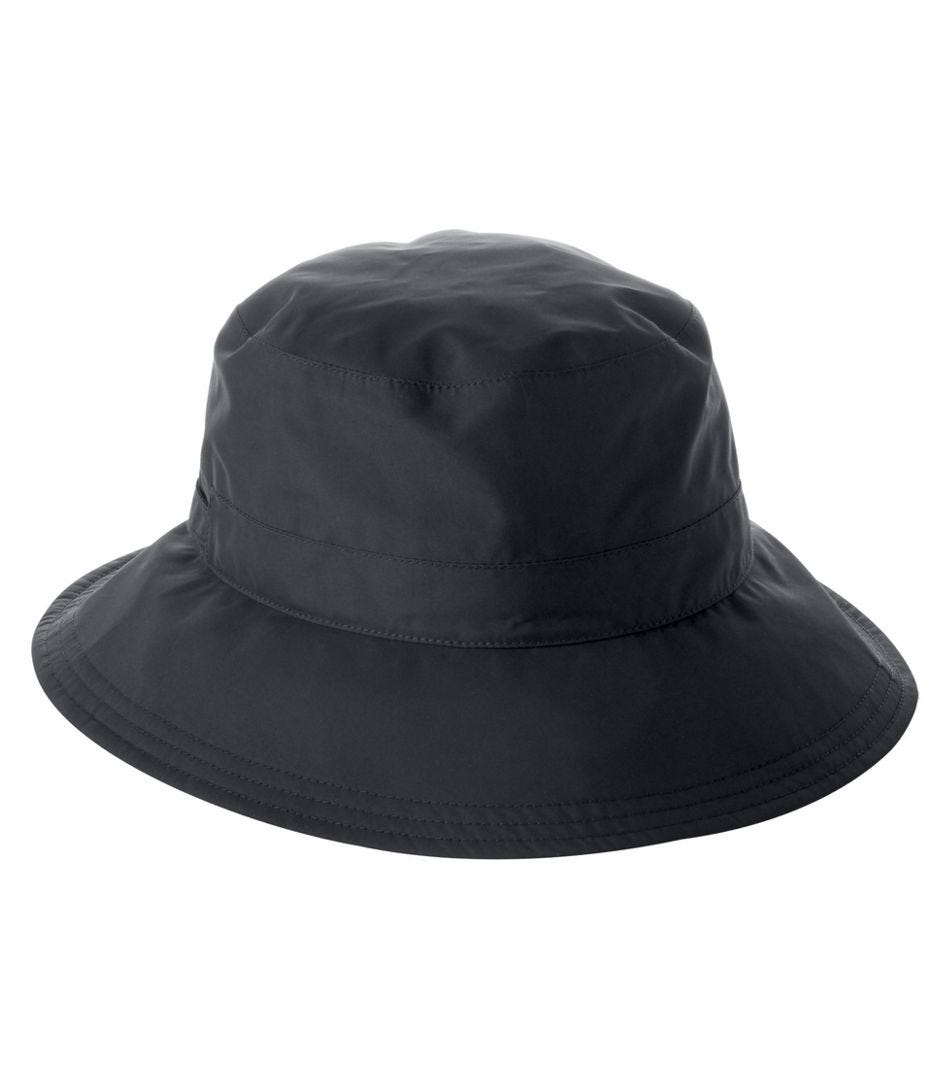 Jaunty Caps
You simply GOTTA get on the jaunty cap game, especially as the sunniest seasons approach, to protect your skin and eyes, cover the sweaty mass of hair that might accumulate unflatteringly on your skull, and add NECESSARY JAUNTINESS to any look! Go masc with Popeye's flat/fisherman's and watch caps, or high femme with a riDICulous Olive Oyl–inspired chapeau in an unforgiving red. The sculptural cap below is especially swoon-inducing, but you could always go with a red beret or beanie for a more toned-down version of this look. Just as long as it's not 'UGLY!'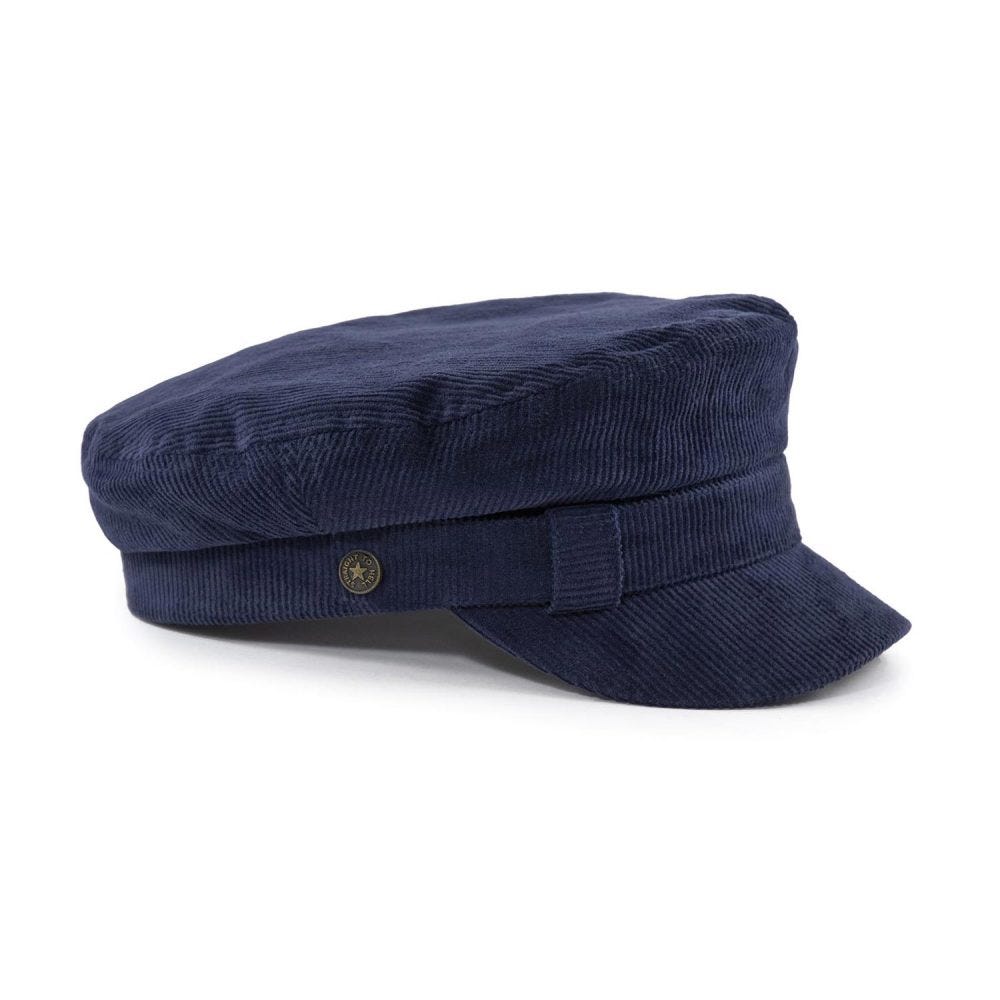 Red Cardigan (To Be Buttoned Down the Back)
After watching exactly one (1) French New-Wave film in middle school, I think an Anna Karina joint, I became obsessed with buttoning all of my cardigans down the back and was vindicated when I saw Olive Oyl doing the same in this film. There aren't many specifically back-buttoning cardigans on the market, but fear not, most 'straight' cardigans actually look super cool when flipped around as long as the back tag can be safely removed without leaving any bumps or holes. Back-buttoning creates an interesting, high boat-neckish neckline and a dramatic reveal of the nape of one's neck which I think is universally sexy and flattering, and the line of buttons traversing a spine is a glorious sight to behold. I chose some red numbers in Olive's honor, but go crazy back-buttoning any color cardigan your heart desires.
Ruffled Neckline
Until I figure out how to replicate the Olive Oyl hairstyle, the iconic neck ruffle will be the closest I can get to truly embodying her ethos. Wrist ruffles add bonus points. Don't be afraid of buying a pierrot collar for fashion purposes. I do love Duvall's wider-collared look, however.
Adorable Negligee
Slap on some vintage Soviet stockings, roll your socks down over them, and slip into something that may be ridiculous, may be sexy, but is definitely pink. Then list all the good qualities of your crush to your entirely unsupportive friends, and if all you can come up with is a descriptor of their size, consider escaping your engagement party off the back porch.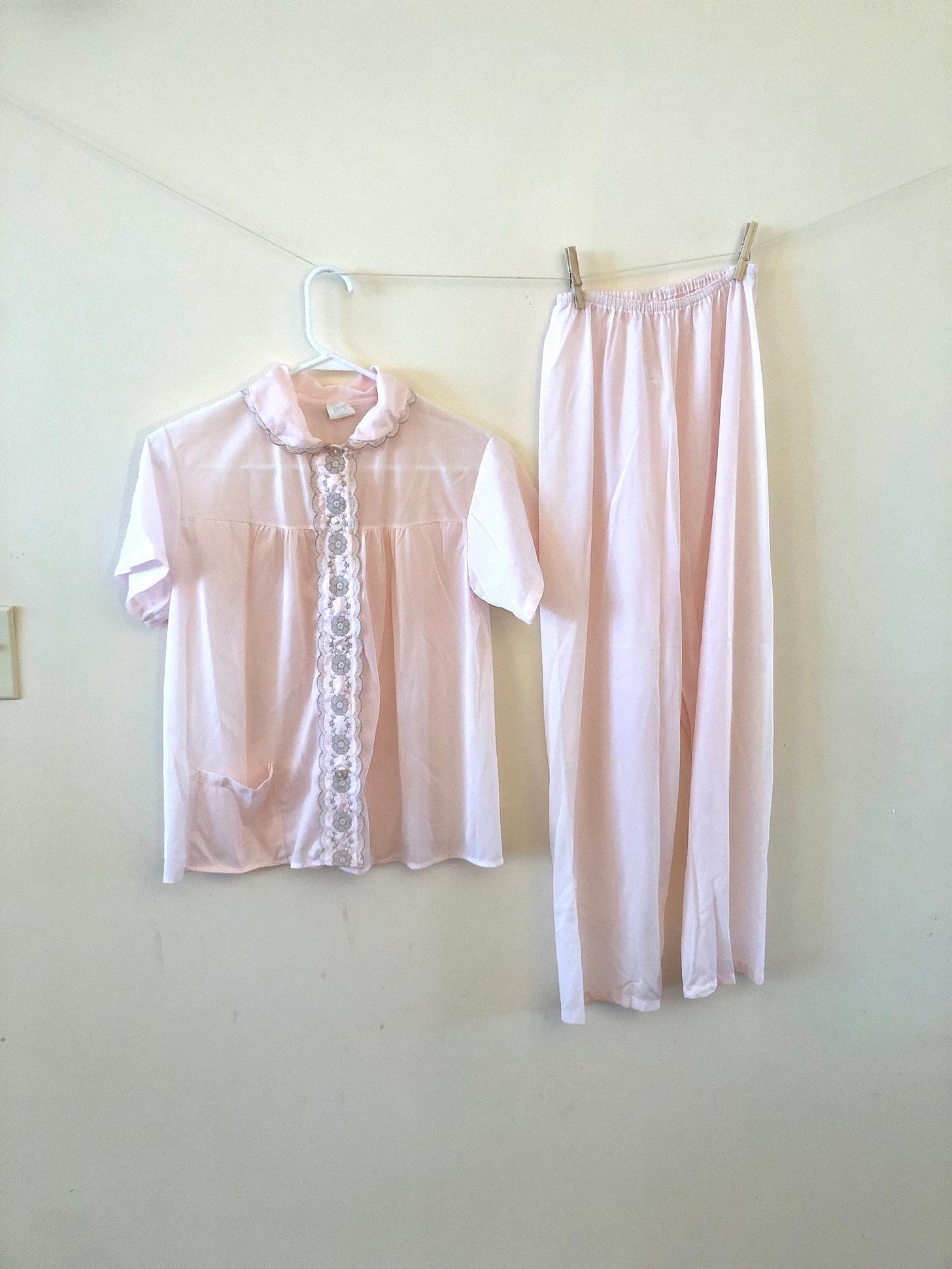 If you haven't yet seen this film, I highly recommend it, for Shelley Duvall's voice, Harry Nilsson's orchestrations, Robin Williams' squint, and general delirious merriment. Please comment or shoot me an Instagram message @humanrepeller if you do–I've gotten some really uplifting feedback recently and that's kept me coming back to this weird little project. Let me know about the Substack question above, and, as always, I hope you find as many moments of joy and peace as possible while clawing your way through the days.
❤ HR